Prime Maxima: Warrior
Patch v0.5.1 + Mac/Linux Builds!
---
Hello everyone! Lead Developer (Neel) here again to give you the rundown.
Prime Maxima: Warrior has been out for one week! We've done excellent in terms of views and I appreciate folks for giving us great pointers in the Feedback Thread. I sent out copies of the game to families and friends after the launch to which the overwhelming reaction has been to offer the game on different platforms. This was an oversight on my part as this is year 2019 and people want to game in the way they prefer. Perfectly understandable! Luckily, RPG Maker has support for multiple platforms and so you'll now find Mac and Linux builds of the game available in the downloads section! Currently, I don't have a testbed for either platform so bug fixes on these versions will be extremely dependent on player feedback. If you run into bugs on any of the available builds, let us know in the Bug Report Thread.

These new builds rolled out with the first patch of our game, moving us along to v.0.5.1! Here are some changes:
Reduced overall game file size by removing redundant assets
Fix for the Mouse on screen Battle bug that was stalling games
Added target indicators so players can see who their skills hit (more than just flashing)
Better Turn Order HUD placement (to the top-right with an arrow indicating who is next)
Mask Tyrant enemy art, mugshot and sprite (so that cutscene at the end of Xalban Fort makes more sense)
Multiple spelling and grammar fixes
The Mask Tyrant was supposed to be in the game for our launch. However, one of the levels (Abbey Ruins) took a lot of time to perfect and we decided to hold the content until our late May build. This unfortunately meant that any cutscenes, battles and dialogue that featured the Mask Tyrant had to be edited as well. Thankfully, that has changed with the inclusion of some new art assets.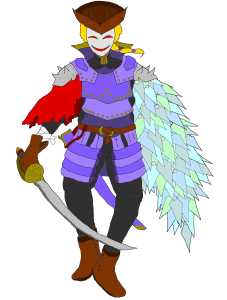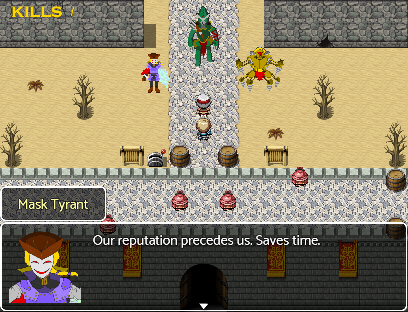 Finally, you can experience his bemused face in all its glory!
The Mask Tyrant won't featured in their level quite yet but Isiah and I have been working on the Lethe Moors battlefield and should be able to give you updates quite soon! Outside of that major inclusion, the other fixes have been a quality-of-life improvements and few things players have pointed out. Looking ahead to the next patch v.0.5.2, it will probably be around April 30th (but don't hold me to that as I am in the process of moving to a new place). Couple things we want to get in by then:
Improved Tutorial that covers Stances and Weapon Switching in more detail (highly requested)
Reworking Stances to conform to more of a "combat triangle" and some the skills to clearly indicated stance changes
Adding screen shake and zoom to battles so that skill animations clearly register and feel more impactful
Doing a sound pass on the game to make sure there is no dead air and the right sounds are playing in the right spots
Redesigned Xalban Fort and Irydes Woods battlefields to take advantage of our Camera system (as seen in Abbey Ruins)
Multiple spelling and grammar fixes (this will be constant as they bug me the most)
I want to thank everyone that downloaded our game this past week, especially our new followers. I was deeply afraid that I would put this game out there and then just get nothing back, but instead the itch.io community has shown themselves to be a warm and welcoming place. I will continue improving Prime Maxima: Warrior until it is a polished and unique experience for our players.
If you would like to support the project, give us a follow and show this to your friends. You can also donate a little when downloading a copy of the game. Every little amount helps make this game the best it can be!
If you want to reach out to us on this project for any reason, contact us at: primemaximaproject@gmail.com
You can also find us on Twitter, feel free to chat us up there: Neel (@mythbuilder), Isiah (@IsiahGames), MythAtelier (@AtelierMyth)
Files
PM_Warr_v0.5.1_Win.zip
185 MB
Apr 18, 2019
PM_Warr_v0.5.1_Linux.zip
228 MB
Apr 18, 2019
PM_Warr_v0.5.1_Mac.zip
321 MB
Apr 18, 2019
Get Prime Maxima: Warrior